Sunday, July 29, 2012
BLOG - Entitlement issues again ...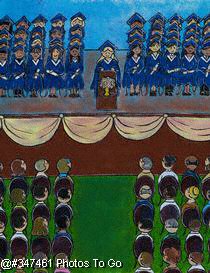 Earlier today I responded to a post from a woman that recently got a paralegal certificate and can't find a job. I know many legal secretaries, paralegals and attorneys that can't find jobs, so a recent paralegal graduate not being able to find employment doesn't surprise me.
I would have ignored the post except for the fact that she asked how can she get experience if no one will hire her, and that she would accept a legal secretarial position if she had to, although she doesn't want to. If she had to, but doesn't want to ??? -- What? First off, if no one will hire her as a paralegal, how does she expect to be hired as a legal secretary without experience?
I explained that I took offense at her comment that she would accept a legal secretarial position "if she had to" although "she doesn't want to." I told her that a legal secretary doesn't just sit there looking pretty.
She just wrote to me privately that she was embarrassed that I wrote on a public forum, and that now employers wouldn't call her to offer her a paralegal position. She went on to say that if she could, she would delete *my* post. *My* post -- how about deleting her own post. I am not the one with an entitlement issue. I can accept reality instead of the rah-rah cheerleading squad so many forums offer posters.
Besides that, she earned a paralegal certificate and not a paralegal degree. Now, let's see -- an attorney is going to hire a paralegal -- unless they want to pay little to nothing, they will definitely hire a degreed paralegal and not simply a certificate. Also, there are 15 paralegal schools in Denver of which only two are ABA accredited.
Get over yourself. If your skin is that thin, you will never make it in a law office. 2012 is not the year to decide you want to venture into the legal arena -- whether attorney, legal secretary/assistant or paralegal.
[end of blog]
9:11 pm mdt
Thursday, July 12, 2012
BLOG - Specifically for the creeps writing malicious software

I hate you! I hate you! I hate you!
Now, do you really want to know how I feel?
Were you @##@$@#@$ing idiots deprived of something during your childhood? There is no doubt about it -- you are intelligent -- more than intelligent. You're brilliant. With that said, just think what you could do with your talents if you were doing it legally.
What do you get out of destroying people's lives by invading their privacy and infecting computers with your crap? Is this how your get your jollies off? Do you ruin people's computers, files and steal personal identities because you were still wetting your bed when you were five years old?--or is it because you were made fun of in school and no one wanted to be your friend or go to the school dance with you? Is that still your life?
My husband has told me for years that locks are only for the honest people. Well, it is obvious they aren't for the @$@$!$@$$R$ who write malicious software. People do everything in their power to protect their computers and their privacy, but no matter what you do to protect yourself, it is NEVER enough when you have people that write malicious software to destroy people's lives and steal their personal information. You have the best anti-virus software there supposedly is -- but who determines what is the best and when does the best become floating in the toilet because someone who has nothing better to do than write this destructive and crappy software? You don't open emails from people you don't know, and you certainly don't click on unfamiliar or unsafe links. You are vigilant about making sure your computer is top-notch and has the latest security updates and patches -- but that is not enough. You are anal in the fact that you are constantly running scans of your computer to catch invaders, but if your top-notch anti-virus software is not aware of the corruption that has taken over your computer, then that top-notch software isn't doing you a lick of good. You have firewalls that even computers in your own household can't break -- but these same firewalls don't stop the creepy jerks who are out to destroy and put as many notches as they possibly can for their destructive and invasive behavior.
They have learned all the ropes and how to get around the medicine to destroy them. It used to be that you could click Alt/Ctrl/Delete and shut the program and their invasive behaviors down -- not any more. Anti-viral software is worthless. You can only do what you can do because you are honest and are more trusting than you should be.
For the people writing this software, why don't you stand on the top of a mountain and shout, giving your name and saying "look what I've created." Why do you hide behind unsuspecting people's IP addresses?
They say "what goes around comes around" -- with that said, I hope you contract one of the worst diseases known to man -- heck, even unknown at this point, where there is absolutely no cure -- No, no, no, I'm not referring to a computer virus on your own computer -- I'm referring to a nasty and ugly human disease that will travel through your body, eating flesh and body parts along its journal. Instead of dying quickly with this so-called disease, I hope the agony is slow and the pain unbearable.
[end of blog]
12:23 pm mdt
Friday, July 6, 2012
I've bought my last Olympus product ...
I will no longer buy anything that has the word OLYMPUS on it.
While they make an excellent product, they do not support the product once that model is no longer made. I have an absolutely wonderful digital camera that is maybe five years old -- the problem is that the memory card is proprietary to Olympus -- meaning you can only use Olympus memory cards -- and guess what?--they no longer make the card. The camera cost just under $800.00, so I guess in Olympus' eyes, you are just supposed to throw it away and buy a new camera. Might as buy el-cheapo disposable cameras.
On vacations, it is not unheard of for me to take 2,000 plus photos. The memory card holds 90 photos, so in order to take more photos, it is necessary to take a laptop so photos can be downloaded constantly. My camera of choice now is NIKON.
Olympus' latest "bend-you-over-at-the-waist" move is with their digital voice recorders and transcription kits. When I began offering digital transcription, I went to Olympus and spent close to $1,000 on the hand-held recorder (for client's use) and the transcription kit that includes a foot pedal, stereo headphones and the driver software for the foot pedal. The transcriber and foot pedal are not compatible with Windows 7 operating system. When I contacted Olympus about this, I received the following email:
"
Dear Carolyn,
The DS-3000 is not compatible with Windows 7 because the operating system will not install Vendor Specific Device Class USB 1.0 drivers such as the DSSUSB1 driver used by the DS-3000. You will need to get a USB 2.0 memory card reader that accepts SmartMedia cards. The RS-23 is not compatible with Windows 7 because it also uses a proprietary USB driver and the transcription software is not compatible. You will need to purchase an AS-2400 Transcription Kit."

------
It sounds like a "who shot John to me" -- because Olympus' drivers are proprietary, they are blaming Windows for the incompatibility. It would seem to me, that it is Olympus' responsibility to furnish updated drivers (at a reduced cost) to current customers who have purchased high-dollar products, instead of forcing them to buy completely new products at full-blown price. There is absolutely nothing wrong with my headphones, digital recorder or foot pedal, but like the camera, Olympus' solution is throw it away and buy new.

Think twice before buying proprietary Olympus products, because in a couple of years, you will have to toss it in the trash, and pay full-blown price, once again, for something that may last another couple of years, if you are lucky.
[end of blog]
9:35 am mdt