Thursday, January 29, 2009
BLOG - A big thumbs down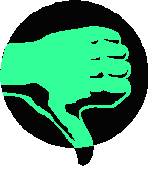 Verbatim transcription is my niche -- but document design is my love -- and except for the fact that I can't compete in price with professional printers, I would probably do more.
At any rate, a few weeks ago I was printing some brochure proofs and my cyan printhead died on my inkjet. I normally print the proofs on my inkjet to keep the printheads from clogging and the ink from drying up.
I drove to Office Depot to find that they no longer carry printheads in the store -- as well as many other office supplies I discovered -- although they could be ordered on-line and shipped from their warehouse. The warehouse is 20 miles from me but I was not allowed to pick the printhead up in "will call." With added shipping costs, I could have bought two printheads. I ordered the printhead on a Friday and the 20-mile delivery didn't arrive until Wednesday afternoon. CAN YOU SPELL RIPOFF?
Tightening my belt no differently than everyone else, my laser printer has been telling me for quite some time that my magenta cartridge was low on toner -- I did not replace it immediately, as I was trying to get every bit of toner out of the cartridge. Yesterday it finally gave up the ghost. I drove to Office Depot to find that they no longer carry any of the four (color and black) HP cartridges for my laser printer -- but I could order them on-line. Thanks, but no thanks.
Calling other stores in the area, they no longer carry the toner either. The printer is only one year old! I'm sure we are going to be seeing this a lot more in the months to come -- less employees and less inventory -- however, if you don't have your own backup supplies, you are going to be SOL when your work comes to a halt while you wait on shipment/delivery of on-line orders.
I have always used original HP cartridges in each of my four printers. I know many people that refill them or buy refurbished ones. From a cost analysis standpoint, there is no cost savings at all because they get less than half the print mileage than I get from my original authentic HP cartridges. If you are buying cartridges twice as often, where is the value of the lower-priced cartridges?
I called HP. They offer FREE next day shipping on all ink, toner and paper -- no minimum purchase required. Memphis is more than 1,500 miles from me and I got my toner at 10:00 this morning. I got an immediate $95.00 discount because I ordered all three color cartridges even though I didn't need the other two yet. Enclosed in the shipment was another $10.00 coupon for my next order.
Goodbye Office Depot and Hello Hewlett Packard!
[end of blog]
3:47 pm mst
Friday, January 23, 2009
BLOG - Transcription is more than hearing
Transcription involves more than just typing words on paper -- verbatim transcription is putting each and every word and sound on paper as it was said. However, the improper placement of words can change the entire meaning of what was said.

Out of caution, President Obama was sworn in a second time because of the first oath being "bungled." The Chief Justice misstated the oath as "execute the office of the President of the United States faithfully." The Constitution requires Presidents to promise to "faithfully execute the office of the President of the United States."

A verbatim transcript means nothing -- even if every word is there -- if it is not not typed exactly as spoken.

President Obama hesitated before repeating the first "misspoken" oath. The oath is a perfect example how important words are -- and how even though President Obama repeated exactly what was said, if a transcriptionist changes the order of words on their own, the transcript is no longer "true and correct" and becomes tainted.
[end of blog]
8:31 am mst
Thursday, January 22, 2009
BLOG - Clueless -- and not just in Seattle
Do people just wake up one morning and say "I'm going to be a legal transcriptionist!" I'm more or less getting that impression this month.
Every month my site gets hits with *lookie lou wannabes* and this month is no exception -- except for the fact that the number has grown considerably, and I'm getting numerous "how can I" emails.
My site has clocked more than 15 hours this month. Clients and prospects are certainly not staying on my site for 15 hours -- they hit and if they are interested, they get my contact info and then they're gone. The only possible people that can log 15 hours on my site are people thinking this is easy and that the money rolls in, or people working on their own site --
take note of my copyright BEFORE you start cutting and pasting into your own website or using for your own marketing material!!!

Copyright ©2007, 2008, 2009 by Carolyn Bodley. ALL RIGHTS RESERVED.

Unauthorized reproduction or distribution of this website, or any portion of it, without first obtaining the express WRITTEN permission of CAROLYN BODLEY, may result in severe civil and criminal penalties, and will be prosecuted to the maximum extent under the law.



Search engine phrases used to find me:
How can I become a legal transcriptionist?
Crash courses to learn transcription.
How much money can I make as a legal transcriptionist?
What do I need to know to be a transcriptionist?
Where do I find transcription work?
Emails along the line of "I know absolutely nothing about legal transcription but I want to change careers -- how do I go about getting started and getting my foot in the door?"
I'm in a pretty good mood today and will offer my 10 cents worth of advice: come up with your own website ideas and content; learn to spell or use a spell check; buy a book or take a class and learn proper grammar; don't have an email address of "hot chick"; and get your own email address and stop using that of your kids or husband. Lastly, if you put together one of those canned web sites -- some of which are free, don't publish your site UNTIL you are completely finished. The software may claim you can create your site in 10 minutes or one hour -- however, read through it thoroughly and make certain all the canned paragraphs with canned names and canned "any place USA" have been edited or removed.
P.S. To the offshore India sweatshops -- please do not contact me again. I don't outsource my work -- and even if I did, it would stay in the UNITED STATES -- I
GUARANTEE
and
RESPECT
attorney/client privilege, confidentiality and security 100%.
[end of blog]
3:53 pm mst
Wednesday, January 21, 2009
BLOG - Welcome Mr. President
I didn't watch the live coverage of President Obama's Inauguration. Instead, I watched an hour special last night, and I've got to tell you, that I'm pretty psyched up -- I didn't think I would be.
I don't think it should matter is you are Republican, Democrat, Independent, or whether your skin is purple polka dot -- we should all be proud to be an American and a part of history.
Taking a passage from President Obama's Inaugural Speech:
"We remain the most prosperous, powerful nation on earth. Our workers are no less productive than when this crisis began, our minds are no less inventive, our goods and services no less needed than they were last week, last month or last year. Starting today, we must pick ourselves up, dust ourselves off, and begin again the work of remaking America."
[end of blog]
12:59 pm mst
Monday, January 12, 2009
BLOG - Walking billboards
Just a heads up if you drive a company vehicle -- whether your own or that of your employer -- if the name of the business, phone number, address ... anything identifying you and the company appears anywhere on the vehicle, you are a walking -- or at least in this case, a driving billboard.

In the past, when I saw "How's my driving? Call ..." I thought, no one would ever call the number. However, I've changed my tone -- if a company vehicle cuts me off, shows any kind of aggression or rudeness, I don't call the number to report the incident, but you can be darn sure I make note of the company. If it's a company/business I use or frequent for my business or my personal life, they've taken the last of my money. If it is a company/business I know nothing about, I will continue knowing nothing about them!

First impressions are really that -- and for me, if the impression is less than favorable, you don't get a second chance. Remember if you are driving a company-named vehicle, your driving habits and discourtesies aren't invisible, but shout "look at me."

As a way of showing appreciation for my clients, I give them business gifts. However, for the "*local*businessgiftsdotcom" van that came across two lanes of Sheridan traffic on Saturday -- diving in front of me and then slamming on your brakes -- because the vehicle in the right lane wasn't about to allow you to cut *him* off, you can be sure pigs will fly or a particular place freezes over before I purchase any business gifts from you!
[end of blog]
10:00 am mst
Friday, January 9, 2009
BLOG - Time is money
For four years, before the mortgage crash, I offered loan signing witness notarizations as an add-on to my business.
I met borrowers at their home, place of business, restaurant, library -- wherever and whenever it was convenient for them. Unlike many "point and sign" notaries that simply point out where to sign and say you can read later, I never had a problem with someone reading "first" and signing "last." Refinancing and purchasing/selling a home are probably the most important LEGAL papers someone will sign in their lifetime. Perhaps if more people had taken the time to read some of these subprime loans, our economy wouldn't be in the state it is now!
There is one signing agent/notary in Colorado who brags that he will travel the ENTIRE state for a signing. This is completely asinine! Colorado ranks 8th in size among the 50 states and is almost a perfect square. There are 104,091 square miles in the state. From center point in the state, it is 387 miles in both directions east and west (Kansas and Utah) and 276 miles in both directions north and south (Wyoming and New Mexico) for a total of 1,326 miles in the state.
I never took a signing that was more than 30-45 minutes away -- reason being is that 30-45 minutes took an hour or an hour-and-one half round trip (depending on weather and traffic). Add a minimum of an hour for the signing for a total of 2-1/2 hours or more out of my day. When you start traveling 50, 75 or more than 100 miles each way, especially in the winter and traveling mountain passes, in my eyes, it's just not economically feasible if you are in a car for three, five, six or more hours and the same amount of time for the return trip -- not to mention the wear and tear on the automobile, maintenance expenses and gasoline.
An attorney trying to "do it all" himself is no different than this signing agent traveling north, east, south and west. An attorney
DID NOT
go to law school to become a secretary, let alone a transcriptionist. I've run across a few attorneys that have invested in "speak and type" software. Although the software has improved since it was originally introduced, it is still a far cry from an actual SECRETARY or TRANSCRIPTIONIST. It
might
be okay for Memo to File or short correspondence, but it has quite a few downsides. First, the software has to be trained to YOUR voice -- which defeats the whole purpose for attorneys thinking it can be used with police interviews, witness statements and recorded phone conversations which are not in a "trained" voice that the software recognizes. It doesn't know the difference between "there/their, plane/plain" etc.
I've run across some attorneys who really are great typists -- however, the same as sitting in a car for hours on end, it's just not an economically feasible alternative for saving money when an attorney types and handles clerical tasks. There is
NO WAY
that an attorney can charge clients their billable hourly rate for pounding on a keyboard.
Criminals will continue to "criminalize" (maybe even more with our country's financial crisis) -- allow me to continue being a secretary and a transcriptionist, which allows you to be an attorney -- pleading your client's case -- if you have time on your hands, use that time marketing your expertise to attract new clients -- but
DON'T
use the time to type your court filings and exhibits.
[end of blog]
11:52 am mst
Tuesday, January 6, 2009
BLOG - Ron Gettelfinger STILL doesn't get it!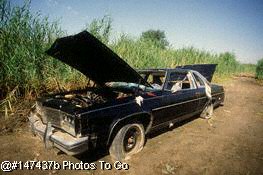 GM and Chrysler have both received the first $4 billion installment of their federal "loan" checks. In conference calls, one-on-one and group meetings, the two car makers are seeking deep concessions from bondholders, dealers, suppliers and the
UNITED AUTO WORKERS' UNION
to satisfy conditions of the $17.2 billion emergency loans approved by Congress last month.
The car makers need to present detailed restructuring plans by February 17, 2009 and demonstrate that they can achieve a positive net worth by the end of March in order to secure additional TAXPAYER funds aimed at securing their survival.
The December bailout request was received sceptically by many lawmakers and TAXPAYERS and initially failed in the Senate. However, the UAW says it hopes for a "more balanced" approach from President Elect Obama's incoming administration. Congress wants the car makers to push the UAW to accept lower wages and the car makers to make smaller contributions to an employee-run health care trust. UAW President Gettelfinger insists "unfortunately, the terms of the loans approved by President George W. Bush single out members of our union, by demanding steeper and faster concessions from the UAW than from any part of the industry. That's not right and we'll work with the Obama administration and the new Congress to implement a more balanced approach."
Explain to me HOW the autoworkers are being "singled" out? The headline in today's newspaper "US suffers worst year of job cuts since 1945" ... "the number of jobs lost during the year (2008) reached 2.6 million."
Analysts say bondholders might balk at swapping their debt for equity or pay-outs if the new administration relaxes the terms labor terms of the bailout loans, and will support restructured bankruptcy.
The U.S. unemployment rate is growing daily and larger well-known companies are announcing daily layoffs and wage concessions -- but NOT THE UAW!
Mr. Gettelfinger whatever you're smoking, it's against the law and the U.S. public is going to relish the day you begin standing in the unemployment line.
On Monday, January 12, 2009, the Big 3's biggest North American trade show opens. In the past, GM has offered visitors free food and drink. Not this year. Chrysler has always turned a firehouse into a pub offering free food and drinks -- like GM, not this year. Additionally, there will not be exhibit waterfalls and rows of computers with Internet access. "Less glitz and no giveaways" is what appears in a trade show blog.
It appears to me that the car makers are really tightening their belts in an effort to make their future work. However, the autoworkers, who feel they are being singled out, will be more than visible participating in a rally outside the tradeshow -- protesting Congress' demanded wage cuts.
I applaud the numerous cost-cutting efforts of the Big 3, but I have absolutely no sympathy for the greed of the union and autoworkers!
[end of blog]
3:57 pm mst
Monday, January 5, 2009
BLOG - 2009 Challeges for Solo Entrepreneurs

Working for myself, I represent a layer of the economy that is truly "layoff-proof" -- a rarity as we begin the new year. Although I don't constantly have to look over my shoulder for fear of being downsized, I'm not immune from budget-cutting clients.
I control my own destiny. Failure is not an option -- and it's up to me, and only me, to see that my business continues to succeed. As a sole proprietor, I'm able to operate my business on a much leaner scale -- although my success is dependant on businesses purchasing my transcription services. My services are geared toward the smaller law firm -- many attorneys working as sole practitioners and with the questionable economy, many attorneys are beginning to cut their own expenses and doing as much work as they can on their own.
An attorney is NOT a transcriptionist -- no matter how proud you are! There is no way you can bill a client, at your billable rate, for attempting to transcribe a verbatim transcript!

Find other ways to cut costs -- because my fighting spirit is going to become my biggest asset during the 2009 recession, and I REFUSE to allow the economy to kill my business.
Together, YOU and I, bonding together, are each other's most valuable survival tools in getting through this economic downside!
[end of blog]
9:16 am mst