Friday, June 26, 2009
BLOG - My argument AGAINST charging by the audio hour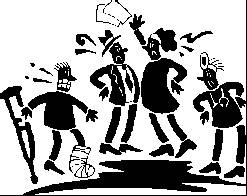 Transcribing audio and video
is not
and
can not
be done in real time. Simply put, a one hour recording in no way, shape and form can be typed in one hour.
Even a stellar recording will take a minimum of three hours -- probably more -- for input only. If you are charging by the audio hour, what about proofreading time? Proofreading word-for-word against the original recording -- be it audio or video, will take, at a minimum, the length of the recording. Do you simply not proof?
Sure, for inexperienced transcribers or people just getting their business up and running, $60, $70 or even $80 an audio hour sounds like a lot of money. However, take into consideration that it will take 3-5 hours (again maybe more) to transcribe the one audio hour. You are NOT getting paid $60, $70 or $80 per working hour !!!
As an example, let's say you and the client agree to $70 per audio hour and it takes you five hours to type. You are earning $14 per hour. Take fifty percent off the top for taxes and supplies (because it is not free money), and you are now earning $7 per hour. That $70 certainly doesn't sound so appealing now, does it? You might as well take a full-time job where you would at least be getting paid benefits.
Even in the above scenario, if you are happy with the $14 per hour because that is what you were earning as an employee, you must remember that you are no longer an employee and that you are responsible for your own taxes, licenses, equipment, supplies, utilities, retirement savings, benefits .... to actually earn the equivalent of $14 an hour, your charge rate, as a business owner, would be 2-1/2 times 14 for a total charge rate of $35.00/per hour. After taking 50 percent off the top, you will actually be earning $17.50 (I've just given you a $3.50/hr. raise), which you will find will not be going to waste now that you are self-employed -- equipment repairs, insurance deductible if the roof blows off your home office or the sewer backs up into the bath tub ...
Looking at it in that perspective, an audio hour charge rate would be, at a minimum, $105 -- and we still come back to ADDITIONAL compensation for proofreading.
DO NOT SELL YOURSELF, YOUR BUSINESS OR YOUR SKILLS SHORT!
[end of blog]
9:19 am mdt
Tuesday, June 16, 2009
BLOG - People wonder why they aren't taken seriously ...
Professionalism is a necessity whether working out-of-the-home or from a storefront office. With that said, it angers me at the people that don't take operating a business seriously -- it doesn't hurt just them -- it hurts every entrepreneur/small business owner and is a black mark against each of us. If you don't know what professionalism is, or if you don't know how to act in a professional manner, then you have no business being in business for yourself!
I just read on an Internet forum where a woman working from her home answered the phone and when the individual on the other end asked for her, she advised the caller that she wasn't there and could she take a message. She didn't recognize the number or the voice and thought it was a bill collector. When the caller began saying she was so-and-so with such-and-such company and was calling about her transcription service, the woman, instead of simply taking the name and phone number and calling her back, replies "oh, this is me -- I thought you were a bill collector and I didn't want to talk to you."
Why would anyone admit to a perfect stranger that they believed them to be a bill collector and that is why they didn't want them to know their true identity?
The woman went on to say that both of them joked about it -- believe me, when you have a business, clientele are NOTlaughing because you are running and hiding from your financial obligations. If you treat your financial obligations like this, how can you treat a client project in a discrete and professional manner and give the client a quality and error-free document.
How can anyone run a business and react in this manner when the telephone rings? If you have bill collectors hounding you, TALK TO THEM -- you can't run and hide forever and the sooner you work out some sort of payment plan, the closer you will be to not being delinquent. It is because of people like you that I'm paying more for items -- creditors have to make up for their deadbeat client delinquencies some way.
The woman went on to say that the caller wanted her Social Security number and her driver's license number -- as a self-employed business owner, why are you using your Social Security number and not an EIN number?And why the necessity of the caller needing a drivers license number?--are they going to begin paying your car insurance?
And these people question why callers pass them over when calling about their services and quoting a rate and why they aren't taken seriously -- I wouldn't want you working on any project for me either.
[end of blog]
4:08 pm mdt
Thursday, June 11, 2009
BLOG - Don't ask for my resume
I am a self-employed business owner/operator, vendor, independent contractor offering legal secretarial, transcription, and mobile notary services -- in short, I wear an assortment of hats.

I don't have a resume. I haven't had a resume since sometime in the 1980's. I am not looking to be someone's "employee" -- THEREFORE, I HAVE ABSOLUTELY NO NEED FOR A RESUME!

My website lists my experience, skills and expertise. If you want a resume that goes back 10 years, that's me operating my own business -- in fact, I've worked for myself since 1992 or a total of 17 years -- so I must have the skills and be doing something right since I haven't been forced to go out there and find a J-O-B, where a resume would be required.

If you want a resume so you can check previous employers and references, you're not going to get it. First off, there are very few, if any, former employers still with the same company/firm from 17, 20, 25, 30 years ago -- many firms have dissolved, merged, people have moved on -- and I really don't think Bill Clinton is lounging in his easy chair waiting for a phone call to testify as to my employment, skills and performance when he was Governor.

My clientele is not a secret -- however, the work I perform is normally that of a confidential and private matter -- CLIENT/ATTORNEY PRIVILEGE -- something I take very seriously!

This rant comes about because of a recent email I received from a woman looking to "hire" me as a transcriptionist for her company. She requested a resume although furnishing nothing about herself except her name -- when I responded asking the name of her company and her location, she made the decision to ignore me.

I can understand the hesitancy of sending work to an unknown -- although as "unknown" business professionals we are also carrying a great deal of risk when performing work for a new client -- mainly the risk of getting paid. There has to be a trust and a gamble with each side -- especially in any new business relationship.

As I already said, my site lists my skills, experience and expertise. If you want more information from me, you had better be able and willing to furnish your operating records -- give me your account payables/receivables; give me your monthly banking statement; your bank deposit slips; give me a list of your creditors so I can check your payment history . . . to me getting paid for my services is just as important as your concern over a work-quality product . . .

My record:
17 years' self-employment
20+ years' legal experience
8 years' governmental/regulatory experience
2 years' engineering experience
2 years' proofreading experience

Now that I've placed my cards on the table, show me your's.
[end of blog]
8:17 am mdt