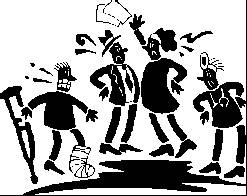 I began working for myself for a number of reasons -- one of the reasons, however, was not to let someone tell me what I am going to do for them! Generally, I do try to accommodate most people, but I refuse to drop everything and turn my own life upside down because of someone's lack of planning and now it it my emergency; or someone that thinks I have nothing better to do than jump when they tell me; or or someone who believes they are sitting in the seat to call all the shots.
I ushered in the New Year with a cold -- hopefully, now that I'm on the downhill side of feeling like "ick", it will be my one cold of the year and I won't be due for another until the year 2012. Besides doing transcription and other legal/secretarial projects, I am also a Notary Public for the general public. For about five years in the yearly 2000's, I also went to homes and witnessed/notarized home refinance loans. When the bottom fell out of everything in 2008, I wanted to be as far away from that part of my business as I could get. I'm happy to say that now I only do notarizations for the public -- no home purchases, no refi's, no loan mods ...
Last night around 7:00, I receive a call from a woman needing child guardianship papers notarized. She said she needed them done last night or first thing in the morning. I advised that I was unavailable last night and I could notarize the papers at 10:00 tomorrow morning (this morning). She proceeds to tell me that she wanted to make an appointment for exactly 10:00 and that it couldn't be a minute later. Usually, I love general notary work because the people are really great people and really appreciative. Right off, I didn't like this woman -- I didn't like the tone of her voice, and I didn't like her domination approach. Remember, it's my business, my notary embosser/stamp, my playground ... make an appointment with a doctor -- sure, you will get there at your appointment time of 10:00, but you will sit there for at least 15 or more minutes. Unless you have 50 pages that need notarized, the entire process won't take 5 minutes. However, I bit my tongue and kept what I wanted to tell the woman inside my mouth and made the appointment for 10:00.
Less than 5 minutes later the woman calls back. I let it go into voice mail. I waited a few hours before I listened to the message. She says that she absolutely has to have the papers notarized tonight or before 7:00 in the morning because the attorney needed to have them served and for me to call her back. WHAT CHANGED FROM MY CONVERSATION FIVE MINUTES EARLIER -- where I told her that I was not available until 10:00 in the morning?--why does she now still feel that she can come to me tonight or before 7:00 a.m.? If her and her attorney are that much under the gun, why didn't she go to the attorney's office where there is a notary?
I don't know what happened with the guardianship papers or the woman -- I don't even care. I know that it sounds flaky, but treat people with respect -- especially, if you are the one needing something from the other person. Don't force yourself and "tell" them that this is how it's going to happen -- AT LEAST DON'T DO IT WITH ME BECAUSE IF YOU DO, THE DOOR OR THE PHONE WILL SLAM IN YOUR FACE AND EAR.
[end of blog]