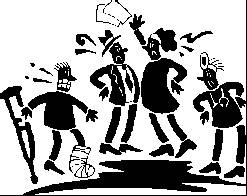 I've begun dumping LinkedIn groups that, over time, I've joined thinking (and possibly even believing) that they would be interesting, that I would gain something out of them, or that I could contribute something. The purpose of my joining in the first place was never to be bombarded with spam, get rich quick schemes, books or websites. Further, who in their right mind would "like" their own post? I mean, talk about arrogant.
The latest group I've began with an incident over the weekend when a woman asked if anyone was willing to share a few marketing tips that would help her business grow. Note: the operative work here is *business* -- her business. She didn't say she was looking for a J-O-B in an employee/employer relationship. I gave her a few tips and ideas, which she graciously thanked me for.
Some guy jumps on board and immediately begins telling her about sending her Resume and not to accept the "don't call us, we'll call you" spin. In all, I believe he gave her seven tips -- all aimed at gaining permanent employment aka J-O-B..
People equate Resumes with full-time, permanent employment -- a J-O-B! This woman was not looking for a J-O-B and I told her to forget about the Resume, and instead, put together a synopsis of her working history, skills, experience, expertise and knowledge.
The guy definitely had a chip on his shoulder. He jumps in again and begins with saying that he has been hired and fired so many times, that now he is working to gain experience so he can work for himself and then he will be the only Jack A$$ that can fire himself. His post was filled with off-color language and just downright inappropriate. Everything he was touting was very similar to advice new parents receive -- usually from childless couples who have no experience on the subject they claim to be experts.
In looking at his profile, the guy delivers newspapers. Okay, at least he's not standing on a corner with a sign. But, how many times do you have to be hired and fired before you see that you are probably the problem and to fix whatever reason it is that you can't keep a job. And don't tell me that it is the employment crisis that we are in -- not when the same thing is happening over and over again. He is a very negative person -- someone I definitely wouldn't want to be around.
I tried to explain to him that there is a difference between gainful employment and building a business clientele relationship. Again, he says there is no difference -- it is all the same. Imagine that -- a "paper man" giving me advice on how to run my own business when he doesn't have a business of his own. I could have really gone off on him, but I simply said that "it might be me, but it certainly seems like he's got a chip on his shoulder."
I don't know if he tattled on me -- I really don't care. A couple hours later I get an email from the owner of the group "personally thanking me for my input and my membership to the group and how it is greatly appreciated. HOWEVER, the group is trying to build relationships and encourage one another and not to minimize comments as unimportant in some way, and how discouraging that can be to someone. When we correct or condescend others on here, it makes us look like we are unapproachable. Thank you again for your input. I hope we can continue to help others in this group together, to encourage and build their businesses, stronger with our knowledge, which you seem to be very good at, and it is so appreciated."
I'm sorry, but anyone that works for themselves knows that it is not a bed of roses, and not just anyone can do it. It's hard work and your feelings will get hurt if you don't toughen up your skin.
With that said, it's nothing like the Amway "you go girl" revival. It is wrong, wrong, wrong to mislead newbies or people that are only in the thinking stage of a business and considering that they can do this, that this is easy. It's wrong to tell them that it is okay if they can only type 40 wpm; that it's okay if they've never done this in a real J-O-B and have absolutely no transcription experience. It's wrong to coddle them and build up their hopes and downright lie to them saying they will be turning work away.
And it's wrong to think I'm going to join into your group Kumbaya round circle and never tell these people that it takes a minimum of five years for a business to support itself and that more doors are going to shut in their face than will open.
If someone has the stamina and the willingness, and not expect entitlement, and to acknowledge how long it will take to make the business work, then I'm behind you. But it's not going to be in the group membership I just dropped, because I refuse to be nicey-nice just so I don't hurt anyone's feelings.
[end of blog]